Background
Tom Kirkendall has been involved in the planning, trial and appeal of a wide range of complex business litigation matters for over 35 years.
Mr. Kirkendall has represented a wide variety of clients in complex business litigation and reorganizations in state and federal courts throughout Texas and the United States. His practice has involved trials and appeals in such diverse litigation areas as corporate reorganization and bankruptcy, anti-trust, securities and business fraud, real estate, construction, oil and gas, insurance disputes, civil rights, free speech issues, defense of civil and criminal contempt matters, defense of show cause hearings in sanctions matters, and defense of individuals in NCAA Infractions Committee proceedings.
After working for one of Houston's oldest downtown law firms while in law school and for two years immediately after law school, Mr. Kirkendall at the age of 28 was one of the founding partners in 1981 of the downtown Houston business litigation boutique law firm that bore his name and became prominent over the next 20 years in complex business litigation matters in Houston and throughout Texas.
Then, in 2000, Mr. Kirkendall established his solo practice in which he concentrates on (i) personalized representation of clients in complex business litigation matters (more information on the nature of Mr. Kirkendall's practice can be reviewed here); (ii) utilization of technology in such representation, (iii) providing specialized "gatekeeper services" for large business clients and individuals in the coordination and management of complex business litigation and corporate reorganization matters, and (iv) serving as mediator in mediations of complex business disputes.
Born and raised in Iowa City, Iowa, Mr. Kirkendall is the fourth of ten children in the family of the late Dr. & Mrs. Walter M. Kirkendall. Dr. Kirkendall was a long-time Professor of Medicine at the University of Iowa College of Medicine when he moved his large family to Houston in 1972 to become the first Chairman of the Department of Medicine at the then new medical school at the University of Texas Health Science Center in Houston's Texas Medical Center.
Mr. Kirkendall moved to Houston in 1972 with his family, and worked his way through college and law school. He received a Bachelor of Arts in 1975 from the University of Houston, where he studied under the legendary political philosophy professor, the late Dr. Ross Lence.
Mr. Kirkendall went on to receive a Doctor of Jurisprudence in 1979 from the University of Houston Law Center, where he studied evidence and criminal law under the noted criminal law expert, the late Newell Blakely, and business law under the renowned business law professor, the late Raymond T. Nimmer.
Mr. Kirkendall has been an author and lecturer for the State Bar of Texas Advanced Bankruptcy Seminar, the Houston Bar Association and many other continuing education courses in various areas of business litigation and corporate reorganization law. Mr. Kirkendall has also lectured on a variety of business litigation topics for the University of Houston Law Center and the University of Texas Law School, as well as private companies and citizen groups.
For over 35 years, Mr. Kirkendall has maintained an "AV" rating from the Martindale-Hubbell Legal Directory, which is the highest rating of that service.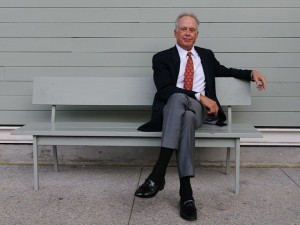 Mr. Kirkendall also maintains the 
Houston's Clear Thinkers
 weblog, where he has addressed issues of interest to the Houston legal, business, and medical communities since February, 2004. Through his blog writings and postings, Mr. Kirkendall has been a strong advocate against the increasingly common use of the government's prosecutorial power to regulate beneficial business risk-taking that creates wealth and jobs for families and communities.
Mr. Kirkendall has been married to Susan Schearer Kirkendall since 1983. They reside in
 The Woodlands, Texas
, which is a suburban community 30 miles north of downtown Houston.
Mr. Kirkendall provides references to prospective clients upon request. Please contact Mr. Kirkendall by phone or email for information regarding references.